Traditional knowledge and Intellectual property: Case of Turmeric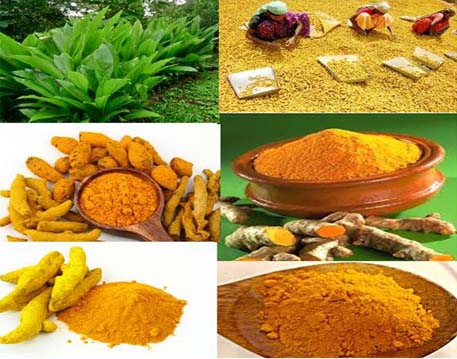 In 1995, two expatriate Indians at the University of Mississippi Medical Centre were granted U.S. Patent 5,401,504 on Use of Turmeric in Wound Healing. The claim covered "a method of promoting healing of a wound by administering turmeric to a patient afflicted with wound". This patent also granted them the exclusive right to sell and distribute turmeric. Initially, this news was a disbelief and surprise by many people in India.
In India, the turmeric has been "a classic grandmother's remedy", applied to cuts of children as an anti-parasitic agent, used as a blood purifier and in treating the common cold for generations. It is also used as an essential ingredient in many Indian dishes. It is part of our traditional knowledge. So, the question was how could someone get an exclusive right to sell and distribute turmeric?
In 1996, The Council of Scientific & Industrial Research (CSIR), India, New Delhi requested  the US Patent and Trademarks Office (USPTO) to revoke the patent  on the grounds of existing of prior art. CSIR did not succeed in providing that many Indians already use turmeric for wound healing although turmeric was known to every Indian household for ages. Fortunately, it could provide documentary evidence of traditional knowledge including ancient Sanskrit text and a paper published in 1953 in the Journal of the Indian Medical Association. The patent was revoked in 1997, after ascertaining that there was no novelty.
Now, what is exactly mean by Traditional knowledge?
Traditional knowledge refers to knowledge, innovations and peculiar practices developed from experience gained over centuries and adapted to the local culture and environment. It is mostly information held in human memories and not written down. Traditional knowledge systems do not act in isolation and include spiritual experiences, philosophies, politics, and technologies and strongly influenced by the indigenous traditions. The holder of traditional knowledge is the community that has unwritten customary laws which manage the access and use of traditional knowledge. This knowledge is vast enough to encompass categories like, agricultural knowledge, medicinal knowledge, biodiversity-related knowledge, and expressions of folklore in the form of music, dance, song, handicraft, designs, stories and artwork.
In 2000, WIPO members established an Intergovernmental Committee on Intellectual Property and Genetic Resources, Traditional Knowledge and Folklore (IGC), and in 2009 they agreed to develop an international legal instrument (or instruments) that would give traditional knowledge, genetic resources and traditional cultural expressions (folklore) effective protection.
How can we protect Traditional knowledge?
Only after the patenting of turmeric, neem and Basumati rice, India and many developing biodiversity rich country woke up to the danger that the traditional knowledge was faced with. Two types of intellectual property protection are being sought:
Defensive protection and Documentation of Traditional Knowledge:  aim to prevent people outside the community from getting intellectual property rights over traditional knowledge. India has compiled a searchable database of traditional medicine Traditional Knowledge Digital Library (TKDL, http://www.tkdl.res.in/) that can be used as evidence of prior art by patent examiners when assessing patent applications. Defensive strategies might also be used to protect sacred cultural manifestations like sacred symbols or words from being registered as trademarks. Documentation helps in preservation, dissemination, use and management of this knowledge rather than for the purpose of legal protection. There are also concerns that documentation could lead to misappropriation.
Positive protection is the granting of rights that empower communities to promote their traditional knowledge, control its uses and benefit from its commercial exploitation. Some uses of traditional knowledge can be protected through the existing intellectual property system, and few countries have also developed specific legislation.
Can trade secret protection be applicable to Traditional knowledge?
There are many traditional knowledge systems that operate through groups or communities or individuals assert and maintain their knowledge through secret regime, especially in the context of medicinal knowledge. The reason being,
(1) Personalised nature of the healing process can induce a de facto private knowledge of botanical resources. For the healer, these secret plants are a symbolic extension of his secret knowledge.
(2) A lot of traditional knowledge have been accumulated and codified and are available in Sanskrit, but many of it have been transmitted through secret oral instructions in various traditional medical lineages.
Is there a need for alternative regime for the protection of Traditional knowledge?
Due to difficulties identified in the application of intellectual property to traditional knowledge including traditional medicines, there have been calls for establishment of the sui generis (specific, special) systems for the protection of traditional knowledge. In the domain of pharmaceutical research, traditional knowledge contributes towards the identification, development and appropriate dosage of the drug. This useful information is accumulated through consistent skill, observation and usage by local and indigenous communities. However, the conventional intellectual property systems do not recognise this as valuable "innovation". Access to such information is assumed to be "free".
This has prompted some countries to develop their own sui generis systems for protecting traditional knowledge.  However, the parameters and modalities are being worked out. The broad objectives under sui generis systems would be determination of protectable subject matter, ownership rights and procedure for acquiring rights.
Furthermore, sui generis systems protected under national law may not hold true for other countries. Therefore, many indigenous, local communities and governments are pressing for an international legal instrument. Recognizing and valuing traditional mode of creativity and innovation as protectable intellectual property would definitely be an historic shift in international law, empowering indigenous communities as well as governments to have a say over the use of their traditional knowledge by others.
Reference:
3)       Dr. T. Ramakrishna, Biotechnology and Intellectual property rights, PGDIPR Law, NLSIU, 2005.
4)       Dr. Mangala Anil Hirwade, Protecting Traditional Knowledge Digitally: A Case Study of TKDL, 2010.
11228 : views