Drug Discovery and Development
The Life science & Healthcare industry are continuously introduced by newer horizons of development, technologies, applications or new hypotheses to discover novel drug candidates. So it is imperative to address these challenges by visualization, search, integration and analysis of complex biological and chemical information to accelerate innovation and efficient operations.

We offer extensive insight into Life sciences and healthcare ecosystem with a strong focus on R & D, strategy and technology.


Drug Profiling
Drug profiling is performed drug effects and to predict the efficacy, safety and toxicity of preclinical- stage of drug development and also to explore the targeted competitive products to enhance market prospect and market penetration estimation before launching a product or in the middle of the research. We offer customized Drug Profiling study and analysis as per client requirement.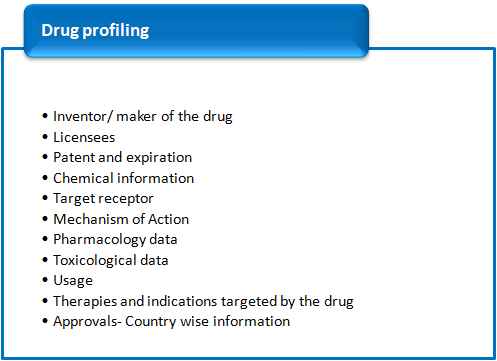 Therapeutic Clinical Intelligence
The Therapeutic Clinical Intelligence Report provides clients with detailed information and analysis of competitive products in the development pipeline, competitive landscape of the drug and identifying the potential collaborators. Reports contain integrated information and analysis of clinical development activities for products and evaluations of completed and in progress competitor studies that summarize important elements of the study protocol including:
Competitive Intelligence Solutions
We combine primary & secondary intelligence gathering of publicly-available information and our analytical skills with domain expertise to provide in-depth, strategic & a broad spectrum of Competitive intelligence report with recommendations and implications that aid value to the Drug discovery & Development process and business strategies.
Research & Development Information Solutions
Our Research and development information solutions mainly cater to Pharmaceuticals, Life sciences and Healthcare ecosystem.
Our report can assist Clients in key decisions including:
Analyzing the competitive landscape within a therapeutic area
Developing business decision on clinical analogues
Bench-marking competitor clinical trial designs and results
Assessing key current and future competitors
Designing effective clinical trials for better market penetration